Welcome to the Faith & Marriage Store
The Faith & Marriage Apostolate of the Willwoods Community is dedicated to promoting the Sacramentality of marriage and providing for married couples opportunities for growth, enrichment, and support.

Our goal is to awaken married couples to their responsibility to continually grow in their sacramental relationship with God, with one another, and the community of God's people. We seek to promote such activities as to empower them to fulfill their call to love.

Now offering
United In Love At Home
United in Love United in Christ is a series of six enriching date nights geared to bless your marriage! It explores God's awesome plan for marriage and provides practical steps in building upon what Saint John Paul II taught to be the "Infallible" and "Indispensable" way to a truly united and faithful love!
United, Home Edition allows couples to utilize the content, videos, and materials from the original United in Love United in Christ program all while doing so in the comfort and privacy of your own home and at your own pace.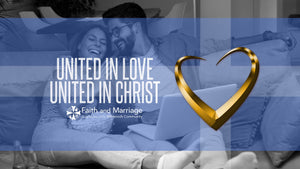 Learn More about United in Love
---
Testimonials
"Jason and Elise Angelette have created a beautiful gift through this video series! They have been able to transcend the cold technology and reach the viewers in a personal and authentic level. It draws the viewers in leaving them feeling inspired, drawn to Jesus, full of gratitude for each other and armed with the witnesses of other couples to help strengthen their own marriage fundamentals. The series does not leave you where you are, but through sincere stories of couples transports you more closely to Jesus and each other. We are so grateful to have participated in this series!"
- Pete & Theresa
"United in Love, United in Christ, is not only a beautifully produced video series but chocked full of critical marriage- saving testimonies. The series is full of biblical truth is tailored to the realities of married life. It is a countercultural message that our church communities are starving to hear."
- Jean & Janice
"On behalf of The Alexander House Apostolate, Julie and I have been engaged in building and strengthening marriages for the past 14 years. Through our work with couples we have noticed that one of the areas that is severely lacking in most marriages is that of spiritual intimacy. We have not only seen the contents of "United in Love - United in Christ" but we have also presented the program on several occasions and the response of the participants was outstanding. We look forward to the published version so that we can continue to bless couples with the "gift" of this program; especially as we conduct our Great Marriage Challenge as well as having it on our website as a resource for those couples who seek us for help."
- Greg & Julie
"United in Love, United in Christ has proven to be a great success ... We can't say enough how wonderful everything went from the beginning to the end. Every evaluation that we collected from couples had awesome comments on everything including the atmosphere and decorations, the individual couple presentation, the group sharing and the "Just the Two of You" alone time."
- David & Mary Beth